MultiColor Module

Multi-spectral fundus imaging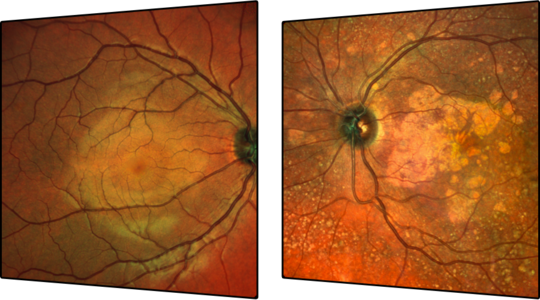 The unique multispectral fundus imaging of the MultiColor Module, acquired with three simultaneous laser beams at different depths of the ocular fundus, provides you with three monochromatic images and a consolidated MultiColor image that can reveal topographic changes not visible with conventional color fundus photography. The differential penetration of each wavelength delivers additional structural information during each examination, allowing you to pinpoint pathology. You can yield diagnostic insights from the monochromatic images as well as the MultiColor image and capitalize on their diagnostic potential by integrating them into a multimodal imaging regimen.
MultiColor combined with OCT can provide accurate qualitative analysis and support in identification of layers affected by pathology.
MultiColor is a valuable addition to Fluorescein Angiography, and, when combined with OCT or OCTA, may confirm the necessity of dye-based scanning laser angiography.
MultiColor nicely correlates with BluePeak fundus autofluorescence and is an excellent tool for measuring areas of geographic atrophy and their width.
It allows for fast and easy acquisition of four fundus images and simultaneous OCT in one shot to streamline your workflows. The confocal aperture of SPECTRALIS® further improves lateral resolution, resulting in stunning images that can prove especially useful in patients with media opacities and nystagmus. In addition, confocal optics eliminate the need for pupil dilation which, combined with automatic alignment, increases the ease-of-use, and reduces chair time.