The following article written by S.K. Steven Houston III, MD published in Retina Today provides a comprehensive review on the OCT features and functions.
The author discusses advanced features of the SPECTRALIS OC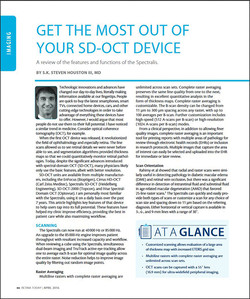 T and how you might use the full potential of the platform to improve efficiency and patient satisfaction.
"If you use the Spectralis, you may be happy with its current performance, but there is a good chance you could be happier using some of the advanced features discussed in this article. [...]"
About SPECTRALIS®
The SPECTRALIS® system is an ophthalmic imaging platform with an upgradable, modular design. This platform allows to configure each SPECTRALIS to the specific diagnostic workflow in the practice or clinic. Options include: OCT, multiple laser fundus imaging modalities, widefield and ultra-widefield modules, and scanning laser angiography.