Looking back at a successful AAO 2016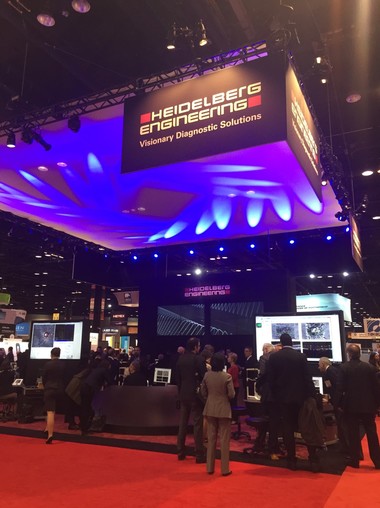 The Annual Meeting of the American Academy of Ophthalmology (AAO) took place mid-October in Chicago. As one of the most eventful and internationally acclaimed meetings in ophthalmology, its program offered an array of clinically relevant information and product innovations. Highlights from Heidelberg Engineering included the launch of the SPECTRALIS Glaucoma Module Premium Edition in the US and a preview of the OCT Angiography Module*.
Heidelberg Engineering's participation this year focused on personalized glaucoma diagnostics with the introduction of the recently FDA-cleared Glaucoma Module Premium Edition for SPECTRALIS. An educational product session entitled "Enhanced Detection and Clinical Assessment in Glaucoma Management" took place in the Technology Pavilion and included guest lectures from Chris Girkin, MD, University of Alabama – Birmingham, Donald Hood, PhD, Columbia University – New York, and Felipe Medeiros, MD, PhD, University of California – San Diego.
To celebrate the launch of the Glaucoma Module Premium Edition Heidelberg Engineering held an event at the top of the famous AON building which gave attendees the chance to mingle and talk with the speakers from the educational session in a relaxed and pleasant atmosphere.
The OCT Angiography Module for the SPECTRALIS*, which non-invasively produces detailed three-dimensional representations of the perfused retinal and choroidal vasculatures, was presented at AAO and attracted a great deal of interest for its image quality and clarity.
Customers looking to prepare their SPECTRALIS imaging platform for new as well as future technologies were particularly interested in OCT2 Module upgrades. The OCT2 Module offers enhanced image quality from vitreous to choroid and a noticeably faster scan speed of 85,000 Hz, making it an ideal platform for future advanced applications such as the OCT Angiography Module*.
*The OCT Angiography Module is not for sale in the United States. Heidelberg Engineering will deliver the OCT Angiography Module to customers outside the U.S. beginning in November 2016.