Introducing the SPECTRALIS Glaucoma Module Premium Edition
Discover the Future of Personalized Glaucoma Management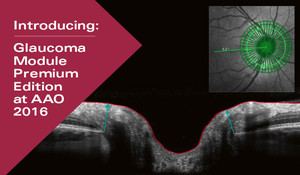 AAO 2016 – Booth #2344
Click Here for AAO Event Details!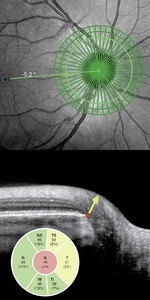 The SPECTRALIS® Glaucoma Module Premium Edition provides a comprehensive analysis of the optic nerve head, retinal nerve fiber layer, and ganglion cell layer by precisely matching unique scan patterns to the fine anatomic structures relevant in glaucoma diagnostics.
The proprietary Anatomic Positioning System (APS) creates an anatomic map of each patient's eye using two fixed, structural landmarks: the center of the fovea and the center of Bruch's membrane opening. With APS, all scan protocols are automatically oriented to the patient's anatomic map, allowing for a highly sensitive assessment of structural change.
---
Glaucoma Module Launch Party Reception
Sunday, October 16th, 6:30-9:30pm The AON Building, 200 East Randolph St., 80th Floor, Chicago, IL 60601
Drinks and hors d'oeuvres will be served.