Cautionary Notice: Windows 10 Upgrade
We would like to caution you not to reserve or install any Windows 10 upgrades on your Heidelberg Engineering devices*. This notice affects SPECTRALIS, HRA, HRT, and HEP devices as well as all viewing station PCs.
DO NOT RESERVE OR INSTALL THE WINDOWS 10 UPGRADE.
Over the last few months, Microsoft has begun pushing notifications to Windows users regarding the upcoming Windows 10 upgrade. Those notifications typically appear at the bottom right of your screen and look like the picture shown below.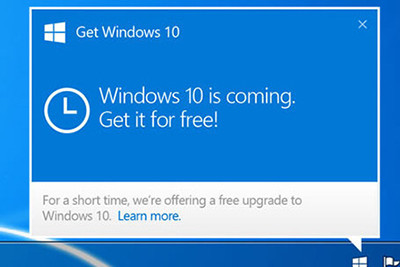 Until further notice, please dismiss these notifications. If you install Windows 10, you will not be able to acquire or review images reliably.
Heidelberg Engineering is currently working on the software needed for Windows 10 compatibility. We will contact you with an update regarding the availability of this software before the end of the year.
IF YOU HAVE ALREADY RESERVED THE WINDOWS 10 UPGRADE, PLEASE CANCEL YOUR RESERVATION. This will ensure that Windows 10 will not be automatically downloaded and installed on your PC. To cancel your reservation, please do the following:
Right click the Windows icon in your task tray (bottom right corner of your screen) and select "Check your upgrade status"
Click the menu icon in the upper left corner
Select "View confirmation" on the left hand side
In the lower left, select "Cancel reservation"
Click "Cancel reservation" again to confirm and then click "Close"
For more information about the Windows 10 upgrade, reservation cancelation, and how to turn off Windows 10 notifications, please click here: https://www.microsoft.com/en-us/windows/windows-10-faq
UPGRADE TO WINDOWS 7 NOW. If your Heidelberg Engineering device is still running Windows XP, we encourage you to upgrade to Windows 7 within the next 6 months for the following reasons:
Future releases of SPECTRALIS software will not be compatible with Windows XP.
The transition to Windows 10 will be easier from Windows 7.
You will experience better system performance.
You will be able to securely connect your device to the network.
To receive a quote for the Windows 7 upgrade, please submit your request here: http://www.heidelbergengineering.com/us/windows-7-upgrade/
If you have any questions about the Windows 10 upgrade for your devices, please call our Windows Upgrade hotline at 1-844-393-8775 or send an email to Windows7USA@HeidelbergEngineering.com.
*All Heidelberg Engineering devices are FDA regulated medical devices. This includes the operating system as provided by Heidelberg. Support or repairs necessary for devices with configurations not validated by Heidelberg Engineering are not covered by Heidelberg Engineering's warranty or service agreements.