Practice Tools
Patient Brochures
To reiterate the importance of the OCT examination and help better understand its results, give patients a customized brochure with additional notes pertaining to their exam.
Eye Test "Amsler Grid"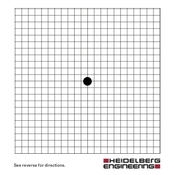 Amsler Grid
With the Amsler grid, you can test the function of the macula yourself on a regular basis.
OCT Preventive Examination Record
The OCT preventive examination record serves as a reminder for your patients to keep track of their current OCT results and the date of their next OCT examination.
Videos
Poster
Educational posters can be placed throughout your practice to support you with patient education. These comprehensive posters will help your patients understand the value of OCT examinations.