Nsite Analytics Module*
The window to the brain – Gain new insights into neurodegeneration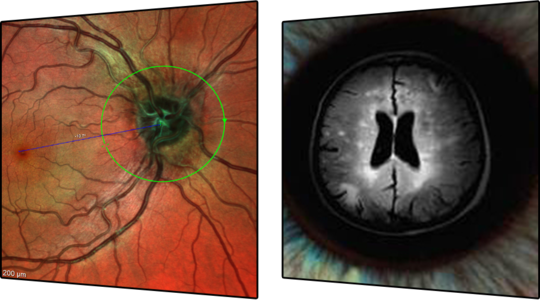 The Nsite Analytics Module provides a window into the brain with the ability to measure both neuronal and axonal projection within the retina from the central nervous system (CNS). Allowing to monitor changes in the retina of patients with optic neuropathies and neurodegenerative processes including, but not limited to Multiple Sclerosis, Parkinson's Disease and Alzheimer's Disease.
The Nsite Analytics Module provides a comprehensive analysis of the peripapillary retinal nerve fiber layer (RNFL), a unique tissue of the CNS as it contains axons and glia in absence of myelin. Nsite implements a color scheme classification in its reference database to indicate both axonal loss and edematous changes in RNFL. The Nsite Analytics Module also offers macular retinal thickness and posterior pole asymmetry analysis. The macular ganglion cell layer thickness measurements and associated maps indicate whether the observed macular changes are directly related to retinal ganglion cells.
Tracking small changes may be helpful in making better informed clinical decisions. SPECTRALIS® Nsite Analytics Module is able to track small amounts of change to the retinal ganglion cell and axons by minimizing motion artifacts and automatically scanning in the same location during follow-up.
*Not available in all countries.