Flex Module*
Flexible diagnostic imaging for patients in the supine positions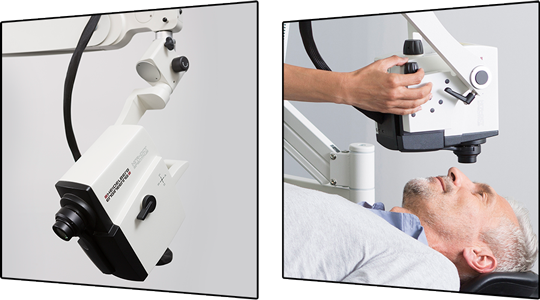 The Flex Module for SPECTRALIS®, the multimodal diagnostic imaging platform for the posterior segment, allows clinicians and researchers to image patients who cannot present to a static, table-mounted headrest. With the Flex Module, SPECTRALIS is affixed to a movable stand with an adjustable arm. It offers a degree of flexibility that goes far beyond conventional ophthalmic imaging, extending all multimodal diagnostic functionality to various positions and acquisition environments. It is best suited for use in clinical applications that require greater mobility.
The Flex Module enables you to conduct ophthalmic examinations in supine patients, systemically unwell patients, pediatric patients, and to monitor ocular surgery outcomes. Make use of all SPECTRALIS technologies and imaging modalities – ranging from OCT to scanning laser fundus imaging and angiography – to perform mobile examinations without sacrificing image quality.
An optional backup battery allows additional 20 minutes of autonomy to avoid interruptions when moving the device between power outlets. This results in flexibility of modalities and spatial mobility that cannot be achieved with any other device. At the same time, it can be more stable than handheld OCT devices, providing you with a movable SPECTRALIS with all functionalities you need for thorough and convenient examinations that ultimately improve patient care for patients that cannot sit upright.
*Not available in all countries.