Journal Article Review – Glaucoma Diagnostics with Circumpapillary RNFL Thickness in Circle Scans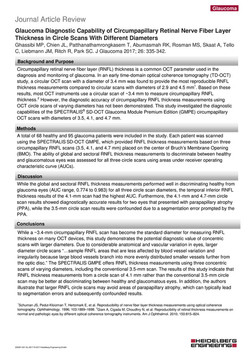 by by Ghassibi MP, Chien JL, Patthanathamrongkasem T, Abumasmah RK, Rosman MS, Skaat A, Tello C, Liebmann JM, Ritch R, Park SC

Circumpapillary retinal nerve fiber layer (RNFL) thickness is a common OCT parameter used in the diagnosis and monitoring of glaucoma. Most OCT instruments use one circular scan of ~3.4 mm. Could ONH circle scans of varying diameters deliver more diagnostic accuracy of circumpapillary RNFL thickness measurements?

A recent study investigated the diagnostic capabilities of the SPECTRALIS® SD-OCT Glaucoma Module Premium Edition (GMPE), that provides circumpapillary OCT scans with diameters of 3.5, 4.1, and 4.7 mm.
Please find other Journal Article Reviews here.*
*Business Lounge login required.