Xtreme Research Award winners explain "OCT Neuro-Toolbox" examinations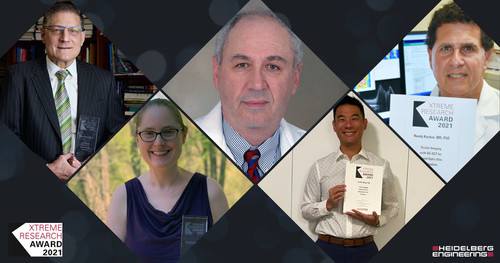 The winners of the Xtreme Research Award 2021 have brought neuro-ophthalmology to the forefront of ocular imaging and innovation with their "OCT Neuro-Toolbox" approach. The research work of this interdisciplinary group has pointed to a practical, office-based SD-OCT set of examinations for the distinction of optic disc edema from pseudopapilledema .
In a recent webinar hosted by Heidelberg Engineering on the occasion of the Xtreme Research Award, the five winners − Patrick A. Sibony, MD; Randy H. Kardon, MD, PhD; Mark J. Kupersmith, MD; Mona K. Garvin, PhD, and Jui-Kai (Ray) Wang, PhD − presented the research behind the concept and answered a variety of clinical and practical questions from a very engaged live audience.
What the winners say:
"This work is the product of a collaborative effort aimed at providing clinicians with novel clinical tools that aid in the diagnosis and management of a common clinical problem: the evaluation and management of patients with papilledema and pseudopapilledema. The OCT has enhanced our ability to distinguish patients with potentially serious neurological problems from those with inconsequential incidental findings. My hope is that clinicians will find these tools helpful and incorporate them into their daily practice. I am very grateful to have had the opportunity to work with such talented team of colleagues, and greatly appreciate Heidelberg Engineering's acknowledgement of our efforts with this award and their commitment to collaborative research and education."

Patrick A. Sibony, MD
"The Xtreme Research Award is an unexpected true honor. Our team is incredible and we have worked together for years, presenting and publishing our collaborative work. At times, we have been frustrated by the slowness of physicians to utilize the tools the OCT provides. We appreciate working with Heidelberg, a forward-thinking company, who recognizes the need to evolve their machines to further patient care and enhance our understanding of pathophysiological mechanisms, which lead to better monitoring and therapies."

Mark J. Kupersmith, MD
"We are grateful for the opportunity to collaborate with a first-class operation and we are excited to go forward with the innovative blue print for enhancing the SPECTRALIS product line. We are also looking forward to working with Heidelberg Engineering on innovations that you the company may be planning to elevate the platform to new heights. We are poised to partner with you and look forward to a very successful collaboration."

Randy H. Kardon, MD, PhD
"Receiving the Xtreme Research Award is a major honor. I am so thankful to Heidelberg Engineering for recognizing the efforts of our multidisciplinary team and look forward to continued collaborations to ultimately improve patient care."

Mona K. Garvin, PhD
"I am deeply honored to receive the Xtreme Research Award. Physicians urgently need more practical tools in their clinics. However, the speed of method implementation cannot always catch up with the latest research. I appreciate Heidelberg Engineering doing their best to incorporate state-of-the-art methods into their OCT devices to help more patients."

Jui-Kai (Ray) Wang, PhD