OIS Podcast Episode on Heidelberg Engineering: Setting the Standards in Imaging
A famous proverb states: "The eyes are the window to the soul". This rather philosophic statement indeed holds true in the medical field. Many systemic diseases can be detected in the eyes, such as Multiple Sclerosis and Diabetes, even before they manifest in other symptoms. In order to support physicians in their clinical care, precision ophthalmic imaging devices are needed to generate diagnostic data.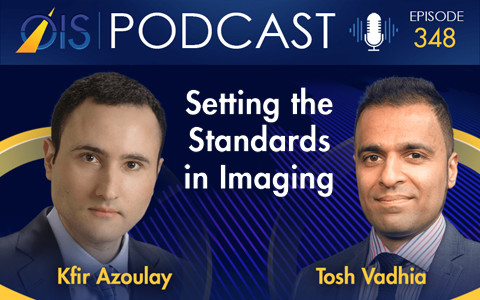 Sophia Pathai, MD, PhD, host of the Ophthalmic Innovation Source podcast, caught up with our Head of Corporate Strategy and Managing Director of MSI, Kfir Azoulay, as well as Tosh Vadhia, Managing Director of Heidelberg Engineering UK, to talk about the trends and opportunities in ophthalmology, including OCT-based biomarkers and artificial intelligence.
As experienced professionals in the ophthalmic field, both believe that Heidelberg Engineering distinguishes itself from other companies. "From the very beginning, we – as a company – have been genuinely committed to science and image quality, which is why we are still heavily involved in research. Collaborations with scientific and clinical researchers are a pivotal pillar in the development of innovative products that deliver clinically relevant benefits." – Tosh Vadhia.

"We wholeheartedly believe that we are contributing to the ground truth in scientific and clinical care in ophthalmology." – Kfir Azoulay
Although the company retains the feel of a close-knit family business, it also aims to move fast in response to technological advances. Munich Surgical Imaging GmbH, the newest subsidiary, recently partnered with Bausch + Lomb to distribute its digital ophthalmic microscopy products globally, allowing Heidelberg Engineering to enter a new field in ophthalmology. Together, the companies will create integrated solutions to meet the growing demand for digital surgical microscopy.
---
For more valuable information about our products, educational offerings, learning materials and events
Subscribe to our Newsletter orContact us