Heidelberg Engineering Announces Winner of Young Researchers Award at IPS 2022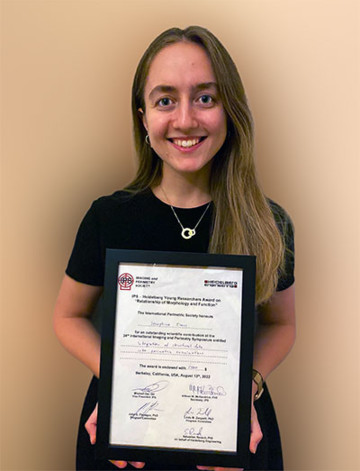 Berkeley, California – Through the years, Heidelberg Engineering has actively contributed to the progress in vision science and supported up-and-coming researchers whose efforts and novel approaches have resulted in a better understanding of complex problems in ophthalmology or paved the path for tangible benefits for ophthalmic patient care.
The Heidelberg Engineering Xtreme Research Award, likely our most well-known recognition of scientists behind outstanding projects and advancements in ophthalmic research, has been awarded annually since 2011.
Today, we are happy to announce our support of the IPS Heidelberg Young Researchers Award, which was recently presented at the bi-annual 24th International Imaging and Perimetry Symposium, in Berkeley, California.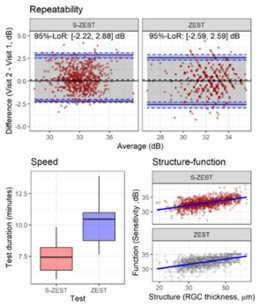 Josephine Evans, a specialist optometrist at the prestigious Moorfields Eye Hospital in London, UK, was honored for her work in exploring the relationship of morphology and function.
For her project entitled "Integration of structural data into perimetric examinations," her team developed a user interface (UI) to import SPECTRALIS OCT scans of the macula and the optic nerve head to inform perimetric testing on fundus tracked perimetry (Compass perimeter), using the open perimetry interface (OPI).
The UI was used to help quantify agreement between structural (OCT) and functional (VF) criteria, using two different perimetric strategies: the standard ZEST with population-based prior distributions, and a Structural-ZEST (S-ZEST), enhanced with individual OCT data to determine the starting parameters. Her team found that the S-ZEST and ZEST have similar test-retest properties in healthy subjects and that the S-ZEST significantly reduced testing time without a loss of accuracy.


Ms. Evans says her interest in this field was piqued early: "I studied optometry as an undergraduate and had the opportunity to be involved with research during my role as a Visiting Clinical Tutor at City, University of London," she explains. "The Crabb Lab has a special interest in improving measurement techniques for eye diseases and the team, led by Giovanni Montesano, were interested in this topic because the findings could have the potential to positively impact patients, clinicians, and resources."
Dr. Giovanni Montesano was the lead author of a 2016 multicenter, cross-sectional study entitled A Comparison between the Compass Fundus Perimeter and the Humphrey Field Analyzer and is a past recipient of the IPS Heidelberg Young Researchers Award.
Further testing is required to validate Evans' approach in patients with glaucoma, where an understanding of the structure-function relationship is considered necessary for diagnostics and grading the severity of the disease. The team's user interface allows for scientists and researchers familiar with visual field testing to apply her solution without the need for further training, potentially enabling further research on this topic.
The user interface concept might also enable deployment into clinics in the future "The next steps are to validate the model further on a large sample size and individuals with glaucoma," Evans says.
---
For more valuable information about our products, educational offerings, learning materials and events
Subscribe to our Newsletter orContact us
---
About the Imaging and Perimetry Society (IPS): The IPS was initially founded in 1974 and strives to "to promote the study of normal and abnormal visual function in the entire visual field, and to ensure and facilitate the cooperation and friendship of scientists of different countries working and interested in this discipline."
About the IPS Heidelberg Award 2022: The award supports young scientists in innovative research on the interrelation of structure and function in glaucoma.