Future-proof your practice with HEYEX 2
You are probably familiar with the HEYEX software featured in most Heidelberg Engineering devices. Do you already know HEYEX 2, the latest software solution for image data management and device integration? With HEYEX 2, you can optimize your workflows, increase your data security, and make your clinical routine even more efficient. This will enable you to meet the current challenges of a busy practice or clinic. Get to know HEYEX 2 now.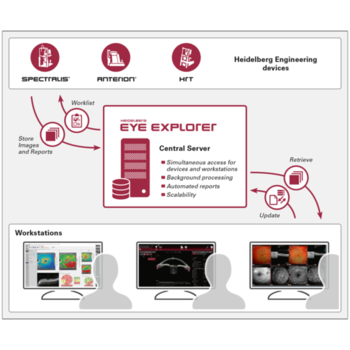 HEYEX 2 connects and operates all Heidelberg Engineering devices and multiple viewing stations. Small practices with just a single device, as well as large organizations with numerous Heidelberg Engineering instruments and even multiple sites can benefit from the following standard features:
Simultaneous and secure access to patient records from all devices and viewing stations

No workflow interruptions or waiting time due to background data processing

Time savings and increased security with automated reports and archiving

Easier collaboration and data exchange with colleagues based on the DICOM standard
Learn more about the innovative features of HEYEX 2. The scalability and continuous development of the solution will pay off and support your long-term goals. Contact us to discuss how you can use HEYEX 2 to future-proof your practice.