European Glaucoma Congress report: "OCT phenotyping the fundus in glaucoma care, management"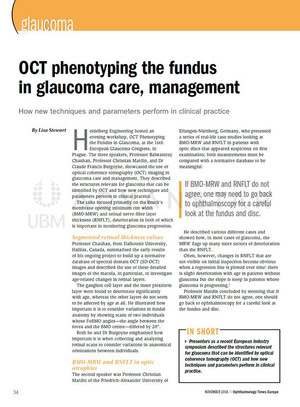 During a symposium hosted by Heidelberg Engineering at the 16th European Glaucoma Congress in Prague, Prof. Balwantray Chauhan, Prof. Christian Mardin and Dr. Claude Francis Burgoyne discussed the structures relevant for glaucoma that can be identified by optical coherence tomography (OCT) and how the new techniques and parameters of the SPECTRALIS Glaucoma Module Premium Edition perform in clinical practice.
Ophthalmology Times Europe (November 2016 issue) reported about the symposium in this article summarizing the three talks, which focused on the Bruch's membrane opening minimum rim width (BMO-MRW) and retinal nerve fiber layer thickness (RNFLT). Changes to these structures are relevant for the diagnosis and monitoring of glaucoma.