Journal Article Review – Ultra-Widefield Steering-Based Spectral-Domain OCT Imaging of the Retinal Periphery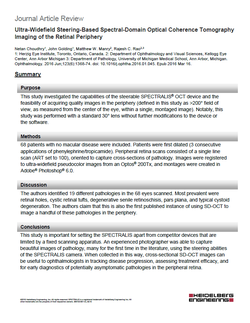 by Netan Choudhry, John Golding, Matthew W. Manry, Rajesh C. Rao

Is a steerable SPECTRALIS® OCT able to acquire high-quality images of the retinal periphery?

Renowned eye care specialists examined dilated patients without macular disease with a standard 30° lens. They identified retinal holes, cystic retinal tufts, degenerative senile retinoschisis, pars plana, and typical cystoid degeneration.
The SPECTRALIS with panning camera allows for capturing beautiful images of pathology in the periphery. Cross-sectional SD-OCT images can be useful to ophthalmologists in tracking disease progression, assessing treatment efficacy, as well as for early diagnostics of potentially asymptomatic pathologies in the peripheral retina.
Please find other Journal Article Reviews here.*
*Business Lounge login required.