Journal Article Review – Distinct retinal capillary plexuses identified with SPECTRALIS OCT Angiography
Optical coherence tomography angiography (OCTA) is one of the trending topics in ophthalmic imaging. An earlier study1 analyzed the OCTA signal profile over retinal depth to define the anatomic location of the vascular plexuses known from histology.

The authors of this new study performed a similar analysis with the OCT Angiography Module* of SPECTRALIS®, which provides better depth resolution than the OCTA device used in the earlier study. They found that the superficial vascular plexus in the parafovea can be divided into two distinct capillary plexuses. It would therefore be prudent to exercise caution when interpreting superficial capillary densities in these areas, because it may not be clear which capillary plexus is affected by ischemic changes.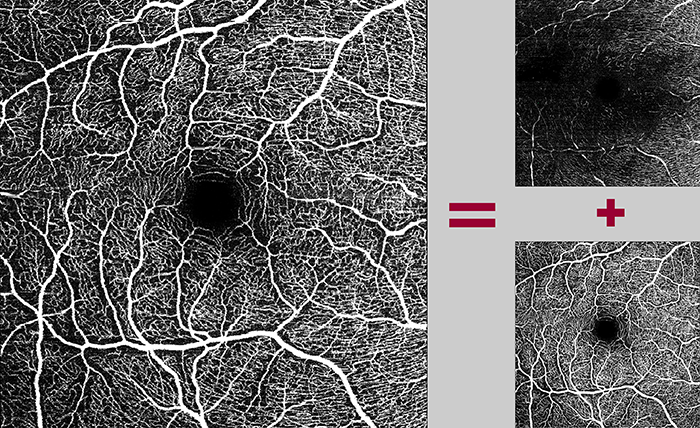 Animation created by Heidelberg Engineering based on data used in Hirano et al. Sci Rep 2018. 8: 9380
The new study found the retinal vasculature in the parafovea to consist of four rather than three vascular plexuses. For different locations in the retina (blue bars), a plot (middle image) shows the vascular density over retinal depth. The corresponding retinal structural layers are shown to the right. In plots representing the parafoveal locations a fourth peak is visible, indicating the existence of a vascular plexus directly anterior to the superficial vascular plexus. The SPECTRALIS OCT Angiography Module preserves the original depth resolution as opposed to the OCTA device used in the earlier study.
Please find other Journal Article Reviews here. (Business Lounge Login required.)
1 Campbell JP, Zhang M, Hwang TS, et al. Detailed vascular anatomy of the human retina by projection-resolved optical coherence tomography angiography. Scientific reports. 2017; 7: 42201.
2 Hirano T, Chanwimol K, Weichsel J, et al. Distinct retinal capillary plexuses in normal eyes as observed in optical coherence tomography angiography axial profile analysis. Scientific reports. 2018; 8: 9380.
* The SPECTRALIS OCT Angiography Module is available only in certain countries. It has not been cleared by the FDA for use in the United States. Check with your country's contact person for details on local availability.