Healio OSN Video Perspective: Next Generation Glaucoma Diagnostics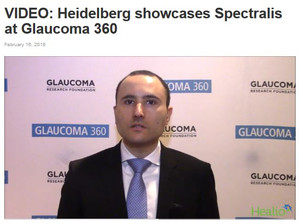 During the Glaucoma 360: New Horizons Forum, Kfir Azoulay, Vice President and Head of Corporate Strategy at Heidelberg Engineering, discussed the SPECTRALIS OCT, a multimodal diagnostic imaging platform.
Mr. Azoulay explained how the precision of the SPECTRALIS provides clinicians with the confidence to manage complex diseases like glaucoma over time. He further explained this precision, in part, comes from, the TruTrack Active Eye Tracking technology and proprietary Anatomic Positioning System (APS). Combined, these technological advancements allow clinicians to create a detailed and highly accurate analysis of the optic nerve head, retinal nerve fiber layer and ganglion cell layer.
Watch video about next generation glaucoma diagnostics
Find out more about the SPECTRALIS Glaucoma Module Premium Edition