TruTrack Active Eye Tracking Improves Image Quality and Patient Comfort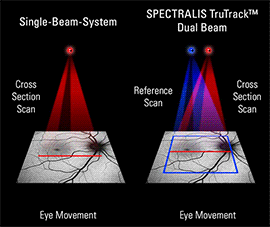 High image clarity and reproducibility are key to an accurate diagnosis and confident progression of retinal diseases. The patented TruTrack Active Eye Tracking technology in every Heidelberg Engineering SPECTRALIS® delivers both.

Two beams of light simultaneously track the eye in real-time throughout image acquisition. This mitigates the effects of eye motion, resulting in stunning OCT images throughout the entire volume, even if the patient moves or blinks. With TruTrack you can increase patient comfort without sacrificing quality.
Furthermore, TruTrack Active Eye Tracking lays the foundation for precise, automated follow‑up scans and dynamic visualization of colocalized cSLO and OCT images to pinpoint pathology. This helps you to be more efficient in your daily work and manage patients effectively, even in challenging cases with very small changes over time.
The DNA for diagnostic confidence
Find out how you can benefit from TruTrack Active Eye Tracking and other core technologies of the Heidelberg Engineering SPECTRALIS.