Revolutionary Anterior Segment Diagnostics with ANTERION: It´s in the Image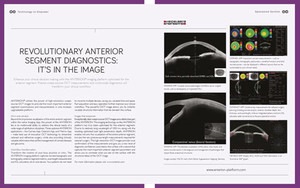 ANTERION®, the multimodal imaging platform optimized for the anterior segment, is prominently featured in the "Technology to Empower" section of The Ophthalmologist (July issue).
The educational article highlights how the precise swept-source OCT measurements on the ANTERION platform can transform your clinical workflow and why clinical images of the anterior segment are important.
All-in-one solution
Beyond the impressive dynamic visualization of the entire anterior segment within the native Imaging App, the power of the ANTERION lies in its multimodal ability to address your individual clinical needs. Three optional applications – the Cornea App, Cataract App, and Metrics App – make best use of innovative OCT technology to streamline cataract and refractive surgery, while also providing clinically valuable information that aid the management of corneal diseases and glaucoma.