New Practice Poster: OCT Visualization of the Whole Eye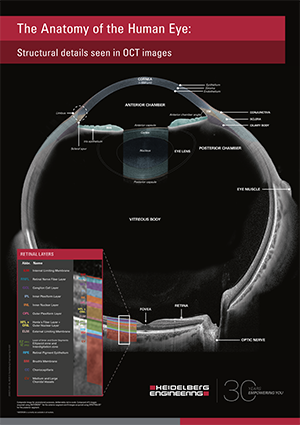 We are happy to present to you our new practice poster "The Anatomy of the Human Eye"*.

This poster visualizes details of the anterior and posterior segment of the eye based on high-resolution OCT images. With the spectral-domain OCT images of the SPECTRALIS, you can differentiate and display all layers of the retina, while the swept-source OCT device ANTERION provides detailed OCT images of the entire anterior segment.

You can download a PDF of the poster in the Practice Tools section of the Heidelberg Engineering Business Lounge**. In case you want to print it locally, there is also a print file available in high resolution.
Discover further practice marketing material like patient flyers or other practice posters in the "Practice Tools" section of the Heidelberg Engineering Business Lounge.
* Composite image for promotional purposes, deliberately not to scale. Composed of 5 images acquired using ANTERION® for the anterior segment and 6 images acquired using SPECTRALIS® for the posterior segment. (ANTERION is currently not available in all countries.)
**Registration in the Heidelberg Engineering Business Lounge required.