See you at EURETINA in Nice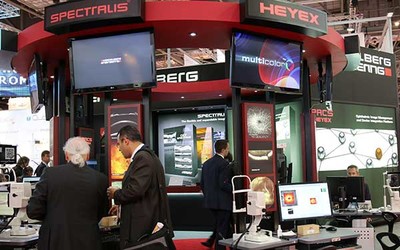 The Heidelberg Engineering team will be happy to welcome you at the 15th EURETINA Congress hosted by the European Society of Retina Specialists in Nice from September 17-20, 2015. Heidelberg Engineering's booth will be M106, located at the Hall Meditérranée.
Heidelberg Engineering's offering at the event will be centered on the SPECTRALIS multi-modality imaging platform and its latest modules such as the 85,000 Hz OCT2 Module the OCT Angiography Module, the MultiColor Module, the Widefield Imaging Module and the Ultra-Widefield Angiography Module.
Since OCT angiography is a topic receiving much attention among retina specialists lately, Heidelberg Engineering will be sponsoring a satellite symposium about it. The symposium is titled "Update OCT Angiography" and will take place on Saturday, September 19, 2015 (10:00-11:00) in room Hermès.
The speakers and topic breakdown will be as follows:
OCT Angiography – How does it work? (Sebastian Wolf)
OCT Angiography vs. Fluorescence Angiography (Gabriel Coscas)
Clinical Examples (Frank G. Holz)
We look forward to seeing you in the striking Côte d'Azur!<br /> For more information about the event please visit www.euretina.org.