Learn more about the whole eye from Heidelberg Engineering at EURETINA and ESCRS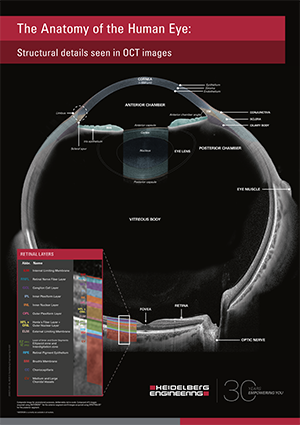 At the virtual EURETINA and ESCRS 2020, Heidelberg Engineering showcases its high-resolution multimodal imaging platforms to visualize the whole eye; as well as the HEIDELBERG EYE EXPLORER healthcare IT solution, which unites the full scope of imaging technologies and patient records.
Heidelberg Engineering wants to empower clinicians to improve patient care by harnessing the power of Spectral-Domain and Swept-Source OCT in the posterior and anterior segments and streamlining workflow, enhancing security, and future-proofing ophthalmic practice.
To find out how, delegates can visit the booth and discuss the latest about the retina and glaucoma platform SPECTRALIS, ANTERION and HRT3 RCM for the anterior segment, as well as about the HEIDELBERG EYE EXPLORER. The HEIDELBERG EYE EXPLORER is a flexible and modular software solution with options that range from image management and device integration to full PACS functionality and even electronic ophthalmic patient records.
During this challenging year, the Heidelberg Engineering Academy has transformed into a virtual Academy. Delegates can also visit the booth to learn more about the upcoming webinar program, watch recorded webinars on demand, or register for the prestigious Virtual Imaging Symposium Oct 30-31, 2020. The Virtual Imaging Symposium offers an ambitious scientific program covering retina diagnostics, anterior segment, glaucoma, and healthcare IT.
"COVID-19 has stimulated the availability of high-quality education in a virtual environment. As leaders in imaging education and technology research, Heidelberg Engineering's diagnostic platforms are very well represented throughout the program. We are particularly happy to see multimodal imaging playing an increasingly important role since we are experiencing how our multimodal imaging devices are helping to find efficiencies in the routines of the new normal", said Krysten Williams, Director of Global Marketing and Education at Heidelberg Engineering.
Visit the Heidelberg Engineering booth to meet our experts and for a chance to receive an educational practice poster of the Whole Eye montage*.
*A Whole Eye montage created using Adobe Photoshop composed of 5 images acquired using ANTERION for the anterior segment and 6 images acquired using SPECTRALIS for the posterior segment. Composite image deliberately not to scale. An imaging parody for promotional purposes only. Artist: Tim Cole, Heidelberg Engineering UK.