Epithelium: Examine, explore, analyze with HRT3 RCM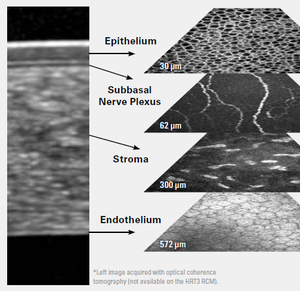 Visualizing corneal cells and structures at a microscopic level may help you to identify keratocytes subpopulations or to visualize the corneal nerve structure.

HRT3 RCM is an in vivo corneal confocal microscope that allows you to acquire unique, high-resolution en face images of corneal layers.
Various corneal pathologies require a precise examination of the epithelium and adjacent layers. Acanthamoeba, for example, is a microorganism that typically presents in the epithelium, but can also infiltrate other layers such as the stroma.

The ability to investigate all corneal layers at a microscopic level supports the detection of Acanthamoeba and assists you in visualizing and monitoring the cysts that are caused by Acanthamoeba Keratitis.

Learn more about further clinical applications of HRT3 RCM in our upcoming newsletters, which will feature clinical cases from eye care specialists around the world.