Evaluating OCT Angiography for Daily Clinical Practice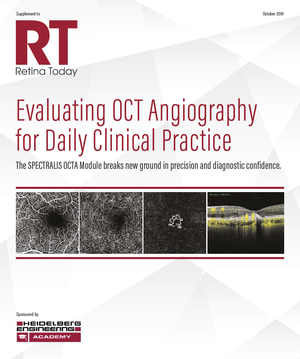 We would like to share with you a special supplement recently published by Retina Today.
"Evidence is emerging that OCTA, as part of the multimodal imaging toolbox for retinal and choroidal vascular disease, can help clinicians to better diagnose and monitor ocular pathologies."
Find out how SPECTRALIS®, as a truly multimodal imaging platform, combines OCTA with other more established imaging modalities to empower you to identify and monitor ocular pathologies more precisely.
Take a deep dive into how the contrast-rich, high-resolution OCTA images provided by the SPECTRALIS OCT Angiography Module can reinforce your clinical decision-making.
Go even further to understand the inherent technical limitations of OCTA and how a dynamic, multimodal imaging approach can help to interpret results more accurately.