Anterior segment imaging – Enhance your clinical confidence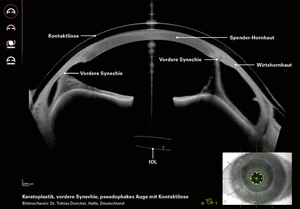 ANTERION® – the multimodal imaging platform optimized for the anterior segment – includes the Imaging App as standard. You can visualize various anterior segment pathologies or surgical results, such as keratoplasty, implanted IOLs, and corneal rings. A detailed visualization of the sclera, ciliary body, and rectus muscle assists you in the diagnosis and management of pathologies that impact these anatomical structures.
Access more clinical cases that illustrate the importance of high-resolution OCT imaging in anterior segment diagnostics.
Enjoy exploring the ANTERION Picture Book online.